Exhibit Design Search

Promotional Merchandise

Our Gift to You: Get a FREE Event Calendar for your Website!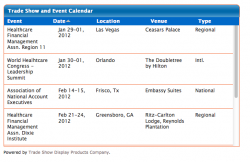 Don't keep your efforts a secret. Drive traffic to your Trade Show Booth by simply letting your clients know where they can find you! Shop For Exhibits' Trade Show & Event Calendar can be functioning on your site in a matter of minutes. With an easy to use interface, you can populate your calendar with the name of the event, location, venue, etc., and link to the organizer's site for housing or registration information. It also gives you the ability to easily add the event to your own iCal or Outlook calendar! Take a look at our Demo Page or Email Us to get started today!

Below are a Few of Our Most Popular Trade Show Display Systems
Know Before You Go: An Inside Look at Trade Show Service Costs


There are so many details to consider when budgeting for your next trade show. Be certain to understand the different exhibiting costs between cities.
This series of infographics compares show service costs in major cities, featuring these necessities: carpet, electrical, labor, drayage and cleaning for a 10x10 booth. Make an informed decision within your budget. According to Exhibit&Event Marketers Association, "Often Exhibitors commit to booth size before costs are known, and Exhibitors are being challenged to do more with less." (more)

What Our Clients Say About Us!
"Lowell and Annie have been such a wonderful help to me today! My employer gave me an extremely small time frame to have two retractable banner stand displays made, one being rather large, and I was panicking with the thought of completing the project by the given deadline. (more)"