Trade Show & Events Calendar for YOUR Website!
Let your website visitors know where you'll be exhibiting,
get more information and add your show to their calendars!
The Trade Show & Events Calendar is an exciting new widget for your website that keeps, edits, and maintains a web site trade show and events calendar, to keep material current at all times and provides your web site visitors and customers with a look into your show and event calendar for the next year. The calendar not only provides the meeting name and locations with dates, but also handy links to web pages of the show organizer to quickly provide registratiuon, and hotel, information plus details on show hours and featured speakers. You can also link to your own web site to products you might be featuring in this years show. As an added bonus, you can click on the "add to my calendar" and add a specific event to your iCal calendar or Outlook calendar. Take a look below!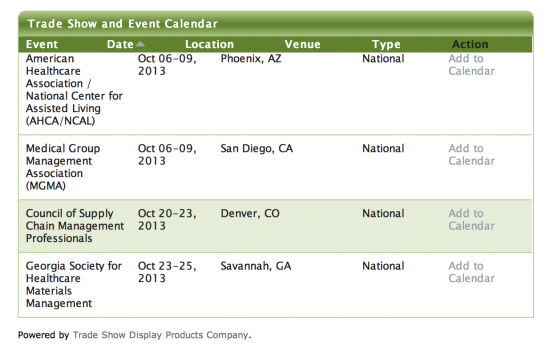 To add the Trade Show & Events Widget to your web page,
follow these easy steps:

Step 1:
Go to the Shopforexhibits home page. The first screen you'll see is the home page where you'll click on the "Create Account" link.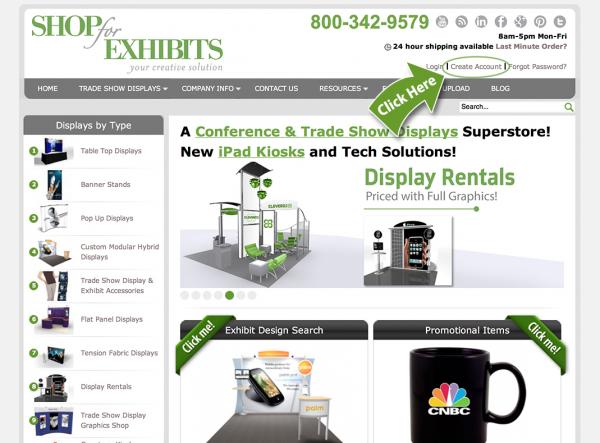 Step 2:
On the "create new account" tab, add a user name and email address. Once this is accomplished, our admin program will send you a password which you can replace with one of your own choosing. Click here to email Lowell to sign up to get this valueable free widget for your web site. When we get notificaton that you've signed up, we'll add your name to the database to activate your account so you can add calendar information. You will be notified by email when this has been completed.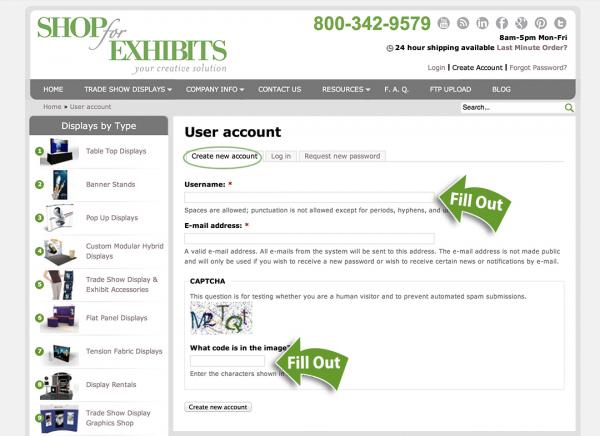 Step 3:
Once the account is activated, go back to the "Home" page and above the index on the left side of the screen, you'll see the words "My Event Calendar." Click on the link.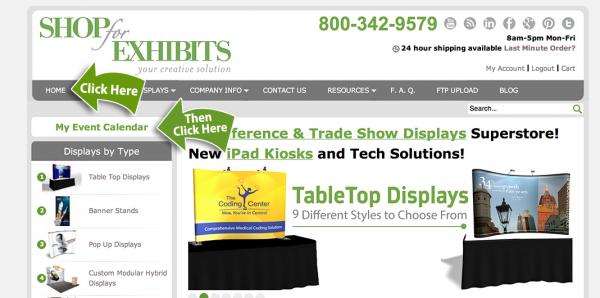 Step 4:
When you come to the screen below, you'll see the "Add New Event" link. Click on it and you'll be ready to add events.

Step 5:
Here you can add as many events as you'd like.
Repeat Step 5 to add more events (as many as you like!)
Step 6:
Please provide us the URL of the page where the Event Calendar will be placed. Should you desire a specific color style sheet for your widget, we'll create one to match your existing pages for $100. When your style sheet has been created, we'll provide you with the code which will contain your specific calendar.
Here's a sample of the code that you'll place on your web page. Once your code is placed on your site, the calendar will be fully functional.
<iframe src="http://www.shopforexhibits.com/trade-show-and-event-calendar/229/blue-orange" width="580" height="350" scrolling="no" marginwidth="0" marginheight="0" frameborder="0"></iframe><div style="font-size: x-small;">Powered by <a href="http://www.shopforexhibits.com/">Trade Show Display Products Company</a>.</div> (different widget color variations will cause this code to change slightly)
Click here to read the Terms & Conditions of the Trade Show & Events Calendar
Call us to get your Trade Show and Event Calendar up and running today! 800-342-9579
or Click here to email us for more info