Banner Stand Evolution-See What's Next!
Banner stands, like pop up displays, have withstood the test of time in the trade show market over the past 10-20 years, and each year there seems to be a new wrinkle that provides yet another point of differentiation from one model or brand to another. When will it end? Try when old fashion ingenuity disappears which I can promise you won't happen soon.
Let me quickly show you examples of what I'm talking about. The basic of banner stands in the market now are the retractable, tripod, tension pole, scrolling, and then several others that you normally wouldn't think were banner stands, but since they function in a similar manner will be for the sake of this blog, considered as such.
First take a look at the retractable banner stands. They all retract somehow into a base mechanism that quickly and safely stores the banner and makes for a quick and easy set up. But where's the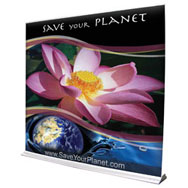 evolution with this product? Rather than the normal width being anywhere from 19-47.5", we now have retractable banner stands that are 8 feet wide and up to 10 feet tall; all of which utilize the same mechanism for storing and transporting the banner as there has always been for years.
Now consider the tension pole banner stands such as the Multiplier by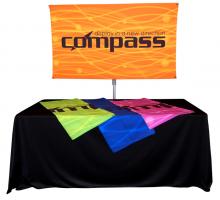 Optima. That worked so well, that somebody got innovative and came up with a way to isolate the tension behind just the graphic itself, and let the base and vertical pole, position the graphic, but not be a part of it. With that idea the Compass Banner Stand was born.
For the new banner products in the market, you just have to look to Classic's Aero Tension Fabric Banner system or their other recent new product called the Backlit Kiosk banner stand. Both utilize features of other banner products, but have assembled their components in a manner that clearly differentiates themselves from other banner stands that are presently offered. The Backlit Kiosk product is a very high end banner, and can be double sided in addition to featuring back lighting capability as well.
The Aero Tension Fabric banner stand, utilizes a quick connect inner tubular frame with state of the art dye sublimation pillowslip graphic that make it very light weight and easy to set up product, plus, these products keep the graphic replacement costs at a minimum which we all like to hear.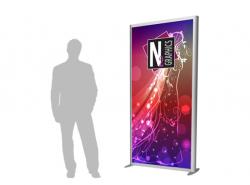 The next time you consider a banner type product for your own trade show of display use, please know that the market keeps giving you choices that you may not be aware of which could change the face of your presentation.
Link to the top of the Trade Show Displays Blog
Lowell Nickens, ShopForExhibits.com, Linked In Profile