Drayage, Labor, & Shipping - Show Survival
For most new-comers to the world of exhibiting in trade shows, the word "drayage" is about as foreign a term, as they every thought they'd hear. But to have to be intimately familiar the concept in order to survive the economic challenges of exhibiting in trade shows.
It almost seems illogical that if "spell check" on your computer Word program has never heard of it, then it can't be too important; Right?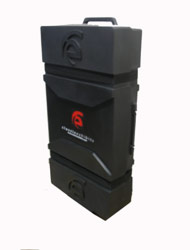 But, how can knowing the ins and outs of trade show drayage, combined with show labor and shipping benefit to you? Consider the relationships between the following:
• The Cost of Drayage…First, it goes without saying that knowing what you need to ship and most importantly how you package it, can sometimes save you up to 50% on one of the largest fees associated with trade show exhibiting. Just packaging your trade show displays correctly can greatly impact drayage costs. Most exhibitors have never looked to see what items are considered special handling. But have you ever considered the impact on labor that your packaging causes?
• The Cost of Labor…First you have to consider the sad truth that almost all large shows are now set up on overtime, which means that labor might now be your most important cost to try and contain. If the labor rate per hour is over $150 per man plus 30% for supervision, then would you rather ship your booth in smaller pieces or larger sub assemblies? This is why you have to know what you're paying for drayage which is charged by the (cwt) hundred weight and shipping to be able to know when shipping your booth in larger sub assemblies will be less expensive in the long run when factoring in drayage and shipping against the hit for labor. Since drayage is charged for by actual weight, it's not much of an increase for the extra wood invested in the crate.
• The Cost of Shipping…All exhibitors think of shipping as moving dead weight from one place to another, but first consider that your booth weighs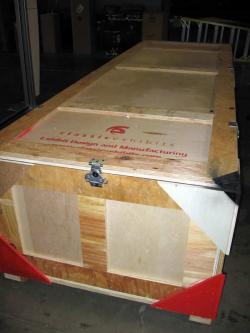 the same if it's in a million pieces or in sub assemblies, thus for the purpose of drayage, if you ship in larger crates you don't be paying a dime more in drayage and but you will pay more for shipping due to dimensional weight. But now measure the increase cost of the larger crate and shipping against paying hundreds and hundreds of extra dollars at show site on overtime putting small components together.
• The Cost of Storage… If an exhibitor knows that he can ship to the next show and get 30-60 days of free storage and not have to ship the booth back home first, it's entirely possible to move your booth around from show to show rather than pay rent at home or in a warehouse in a strange city waiting for the advance warehouse to become available so you can ship to the show. It never hurts to ask if you can ship early as the savings can be considerable.
So in conclusion,
1) Become familiar with shipping to trade shows and what sizes and items might cost you a premium so you're not trapped into an unwanted expense for years to come.
2) Be aware how your exhibits are not only built, but how they're packaged because poorly thought out packaging can multiply the cost of your trade show booth many times over with high labor costs.
3) Know what items are automatically considered as special handling for shipping and drayage purposes and try to avoid them.
Link to top of the Trade Show Displays Blog
by Lowell Nickens, ShopForExhibits.com LinkedIn Profile