Exhibit Flooring
A Trade Show Displays Tip:
For exhibitors who attend trade shows, dealing with any type of floor covering has always been somewhat of a hassle. They get caught in the dilemma of not knowing from an economic standpoint, if they should buy or rent carpet, or some other type of floor covering.
In recent years there have been various new products that have come into the mix of what could to be considered. Exhibitors however, need to weigh their decision about floor covering to see if it has the same portability as the trade show displays that they've purchased, so that a very simple exhibiting solution isn't made into a difficult dilemma.
Here's a short list of what should be considered:
* Cost to purchase a 10 x 10 piece of 32 oz. carpet with carpet bag.
* Shipping costs to and from the show in addition to their trade show displays.
* Drayage Costs to bring it onto the show floor and back out again.
* Cost to clean carpet occasionally & misc. supplies i.e. double stick tape to install it each time
* Storage between shows
Here are a few of the possibilities as far as floor covering for 10' trade show displays:
1. Conventional piece of 32 oz. (better grade) carpet with pad: $455
2. Carpet Tiles that install quickly and easily like puzzle pieces and pack in one flat panel molded shipping case with wheels: $832
3. Roll up foam flooring which comes in a variety of colors and patterns from woods to diamond plate steel look. Carpet with pad rolls up in roughly a 5' or 10' long tube depending on whether the flooring is seamed together in the middle or shipped as one large 10 x 10' piece. Now you can actually match your floor covering to your trade show displays: $958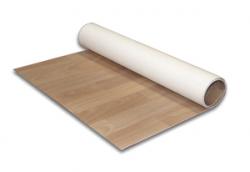 Lowell Nickens, an online retailer of trade show products with www.shopforexhibits.com tells us that; "as the price of carpet keeps escalating with the show service contractors, many of these products are becoming more and more enticing to purchase because exhibitors can at least get what they really want as far as the look they want alongside their trade show displays for the dollars that they spend. Right now the cost to rent a 30 ounce carpet is approximately $330 and normal show grade is about a dollar less per square foot. Both of these are plus tax. The closer the price comparison gets to even, the easier the decision will be to making a purchase.
Nickens also noted; "to make the decision more difficult for exhibitors, service contractors are moving to label exhibitor carpet being shipped to shows, as "special handling" items, so they can in effect tax floor covering that's being shipped into show sites."
It's difficult to know in the future which way the balance will tip in this situation, but know that new products that complement trade show displays will always attempt to keep floor covering prices competitive to compete with the local service contractors.
Click for additional information on Trade Show Displays
Link to Top of Trade Show Displays Blog