The Importance of Image Consistency
A Trade Show Displays Tip:
In the world of exhibiting, you only have a few seconds to make a first impression. Often times the first impression decides what prospects think about your entire organization, and once that impression is made, it is extremely hard to get anyone to think otherwise.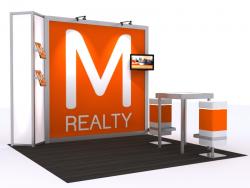 That is why creating a consistent image throughout with your trade show display and/or retractable banner stand products, as a whole is crucial to making the experience worthwhile for every potential customer that stops by your trade show display.
Creating image consistency is such an important part of the overall process and should not be taken lightly. It is imperative to begin creating an image from the very beginning, and trying to stay true to it with every detail. In order to create consistency, everything must support the message of the other. This can be done by making sure that the trade show booth is the same color as the literature, and the retractable banner stands, lighting, and flooring are enhancing the overall experience of the exhibit. The booth personnel should also be dressed in attire that accents and supports the overall look and theme of the exhibit.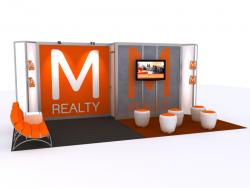 In general, every message that is being projected to potential customers should support one another. (Both exhibits and retractable banner products.)This will keep a concise and clear picture in the attendee's mind of what you as an organization stand for. Remember this when planning out the details of your next big event. If you can capture a prospect at the moment a first impression is made, and affect them positively with a consistent message of your company, than proving to them you are a genuine and organized group will not be as difficult.
Click for additional information on Trade Show Displays
Link to top of the Trade Show Displays Blog