The Importance of Qualifying Leads
This will help ensure that all of your trade show marketing techniques and efforts are going to be used to their fullest potential. One of the most important factors included in this partnership, is your trade show booth staff, and how they handle the marketing plan behind the exhibit displays.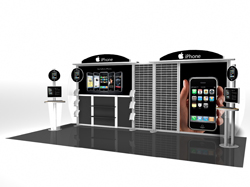 Your booth staff should be able to successfully approach attendees and exhibit visitors in order to build a relationship or connection, and to eventually turn those connections into qualified leads. These leads are what will make your trade show marketing plan, what it is supposed to be. Due to the importance of this factor, it is crucial that you take the time to stress this skill to your staff before every trade show. You must train them to understand how to do this most effectively. If you are able to help your staff learn how to qualify leads in the most effective way, you will surely get the pay off you deserve from your trade show marketing plan, at every trade show you attend.
Click here for additional information regarding Trade Show Displays.