Penny Wise and a Pound of Stupid
Another Trade Show Displays Tip:
Did I really say that? Well, yes I did and I have to say that I really meant it too. You might be asking what got under my skin to cause me to be so bold about what I'm about to say? Well, hear me out and then judge for yourself.
I recently had a new acquaintance tell me about the clever purchase he made with regard to the exhibits he uses at trade shows. He was so very proud of himself as he told me about outsmarting the system by buying 3 banner stands and lining them up along his back wall so he could set his whole booth in seconds and tear down in even less. And then there was the cost savings he achieved when he purchased the banner stands instead of a more traditional booth, and then there's the shipping and the drayage savings, and his good fortune just went on and on. He was a lucky guy!
Unfortunately he was describing all of the features and benefits that he was able to take advantage of that made his life easy, which allowed him to get on the plane a little sooner or stay in the bar a little longer. All of this had little or nothing to do with whether or not his marketing message was on point and communicated properly through his graphics, or if he looked like the consummate professional up against his biggest competitor? He didn't really care, because exhibiting just got a whole lot easier for him. I think you can see where I'm going with this.
What is exhibiting at trade shows really all about? Let's explore a short list and see where it takes us:

1) Exposing your companies brand in the marketplace in the most favorable way possible

2) A new prospect has never been to your modern new glass palace home office, so what he sees in back of you becomes his reality of who you are, and what your company's image really is.

3) Creating relationships is a very important function of exhibiting and meeting new prospects at trade shows, so the looks of your booth plays a major role in attracting those prospects into your booth.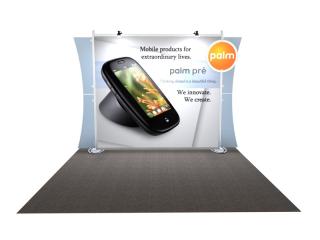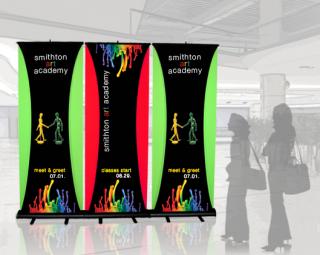 Now, with all things being equal, which of the booths below would you as a prospect, tend to gravitate toward?
So in the end, it's really not all about how quickly you can set up or tear down your booth, or how much you spent on the booth itself, but how well your booth communicates the true strength and image of your company, your product, and the quality of the individual presenting all of the above. This should be what determines what you purchase!
Link to the top of the Trade Show Displays Blog
by Lowell Nickens, ShopForExhibits.com LinkedIn Profile