The Perfect Exhibit Presentation: Finish Strong
When you are concluding the presentation, it is important to give them a briefing on what was just covered so that all loose ends are tied up and no one is left confused or uninformed. If done successfully the conclusion should set up a number of important steps for you as an exhibit team.
The conclusion of your Trade Show Displays presentation should confirm that the attendee is interested and also what they need from you as a company, which should in return set a clear tone for the follow-up. If this is done correctly, you will be able to see more success with your follow-up leads if you already know what they want from you and how you can provide that for them.
Your conclusion should begin with a slight, quick review of the attendee's concerns and the features and benefits of your products and services that will be communicated via your trade show displays, because these are the most important parts of the exchange overall. The summary of the overall presentation should put the whole discussion into a nice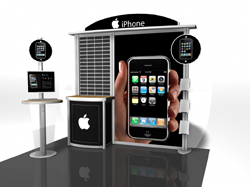 package that makes it easy for the attendees to make a decision on whether they would like to do business with your organization. After you have summarized the objectives and proved that they have been met, you must now ask for a commitment. Often times trade show exhibits and displays will put on wonderful presentations, draw large audiences throughout the event, but will not get enough follow-ups at the end of the event to really make a difference. Well, the solution is to be proactive and ask for a commitment at the end of your presentation. It could be as casual and easy as, "The next step for us would be to schedule a time to meet and examine the greater picture, and how my organization can help you meet all of your objectives and goals." This will enable you to schedule a follow-up o the spot, which will make your chances for success even greater.
Finally, make sure that before you and the potential customer part ways that you leave making sure they are feeling positive and excited about the idea of working with you. Make sure to seem interested and let them know that they will be well taken care of with you. Good planning, effective time management, and flexibility will all lead to a direct, meaningful, and hopefully profitable presentation with this or any of the many other trade show displays that you might own in the future.
Click here for additional information regarding Trade Show Displays.
Link to Top of Trade Show Exhibits Blog