The Pop Up Trade Show Exhibits Revolution
Trade show exhibits have steadily evolved in the trade show industry for the past 20-30 years; but none quite as interesting and explosive as the pop up display. Sometime in the late 70's or early 80's, several different pop up brands emerged onto the scene to challenge the flat, folding panel trade show exhibits that had been the staple of the industry for years; probably just because there wasn't anything to challenge it.
As we all know, every product has a life cycle and when a product comes to that mature stage, there's usually something else waiting in the wings to take its' place and usher in a new material or technology of some sort. But, this really didn't happened with the pop up. It's a product that keeps re inventing itself over and over.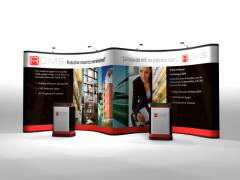 Initially, it was a fabric panel display that you could Velcro laminated graphics onto with little or no effort plus nice looking backlit headers and a couple of halogen spotlights. I should also say that the early creators of this product did an outstanding job in packaging the product which helped make it an instant success. However, it was when the photographic reproduction industry figured out how to make large photo murals and attach pop up hardware to them, that really sky rocketed this segment of the trade show exhibits industry.
Pop up exhibits have gone through many stages including innovations such as cases that double as podiums and the invasion in the early 21 st century of imported pop up with rock bottom price points. But even this many years later, new innovations with the pop up frame have helped reinvent it once more time with the addition of dye sublimation fabric permanently attached to the frame making pop up displays such as the V Burst even easier to set up and extremely economical to replace the graphics when the need arises.
Other innovations with pop up trade show displays include the Xpression's Snap trade show displays which features individual skins that connect onto the hubs and travel with the frame similar to the V Burst. In the end however, it's the simple but always amazing frame that in an instant opens up and gives onlookers a sense that something magical just happened.
What's next you ask? Well, I've learned over the year not to be surprised with anything that somebody is able to invent with the pop up frame because the possibilities after 30 years still seem to be endless.
Click for more information on trade show exhibits by Lowell Nickens
Trade Show Exhibits | Back to Top of Page
Link to show display products