Trade Show Displays | Monitor Stands
A Trade Show Displays Tip:
Monitor stands that have traditionally been used in conjunction with trade show displays in trade show venues, have for the most part, been very large and heavy metal structures that are not something that you'd ever want to ship to a trade show. Due to their very nature, they are difficult to move around and would cost a small fortune to package much less the cost for the drayage on such a piece of hardware.
We recently spoke with Lowell Nickens; a seasoned veteran of the trade show industry for over 30 years and who retails exhibits on two web sites about this issue and how he approaches it with his clients. Nickens stated; "We just didn't have anywhere to go to assist our customers in the purchase of a product that fit their needs, but also was economical and could be packaged along with their trade show displays in an economical way. Out of sheer frustration we went to our main supplier of trade show displays, Classic Exhibits, and told them of this void in the market as far as this product, and they listened and came up with a whole line of monitor stands that are affordable and pack in one flat panel case."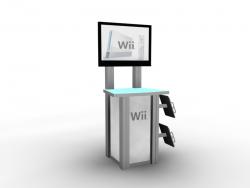 Now I also have to say that there are other products that you can buy at some chain office supply stores around the country for less money, but then again, you run into the problem of packaging; a solution which doesn't exist within these retail stores, and furthermore, plus they frequently don't break down into the size pieces that would fit into a typical roto molded case that was originally created for trade show displays.
The new line that Classic created not only packages well, but comes with a variety of accessories which you'll never find anywhere else. You can accessorize them with shelving, literature pockets, and attractive locking cabinetry. As monitors change in the future, I'm sure that the new lines of monitor stands will continue to grow to serve this ever expanding market at trade shows.
Click for additional information on Trade Show Displays.
Link to Top of the Trade Show Displays Blog