Trade Show Displays | Roll Up Flex Floor
Trade Show Displays | Roll Up Flex Floor A Trade Show Displays Tip: Exhibitors who are considering the purchase of trade show flooring to match their trade show displays, they need to consider a new product that has emerged into the market in the past few years that warrants some attention. I've had a chance to use a flex roll up flooring and would like to share a few thoughts as far as its' viability for use by exhibitors in the trade show industry.
Because flex roll up flooring turns out to be major expense for exhibitors, they're always looking for new products that are economical and easy to transport with their trade show displays. What makes this product worthy of attention? Well, the manufacturer lists these features: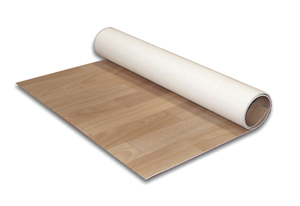 * Convenient, attractive and cost effective
* Fast, simple installation
* Durable and easy to clean
Because I've used this product with my own trade show displays, I'll give them "attractive and cost effective." But here are my observations about this product after having used it:
Unless you want a seam running down the middle in your trade show booth, your shipping case will be about 130" long and the case is rather expensive. With the seam, you can get a case that is about 72" long.
Although there's foam padding on the back of the flooring, if you really want a cushy feel, you need a pad which will fit into the shipping tube.
Trade Show Display Flooring, as far as durable, if you ever need to cut a whole to run electrical cords, it will never be a pretty hole and the hole is prone to tearing which later on, is difficult to hide. You can't always move your trade show displays to cover the holes completely.
Easy to clean is a stretch. This floor is a dirt magnet and I took a Swifter and a whole tub of moist towels and it didn't take but about 16 square feet of floor and the towel was filthy. You can easily go through a dozen moist towels to clean a 10 x 10 booth.
As you can tell, I had a few reservations about this product, but the looks of the flooring was great and with a whole lot of care can be a very successful product.
Click for additional information on trade show displays
Link to Top of Trade Show Displays Blog