Trade Show Displays | For Struggling Companies
A Trade Show Displays Tip:
Times are tough everywhere right now and the business world seems to be getting hit the hardest. A struggling economy and reduced cash flow has forced many businesses to close their doors altogether and many of those that remain have had to make serious cutbacks to weather the storm. While it may seem counter intuitive to spend any additional money during this period of time, for some companies it may be just the thing to help them grow their business. How? With display stands!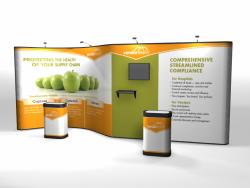 Those businesses that make the decision to participate in an upcoming trade show will often find the effort pays off in financial dividends. This is because the trade show experience affords companies the opportunity to get directly in front of prospective clients and customers. Those who tackle the trade show experience successfully will often find that they walk away with new business. But how do you go about making trade show participation a successful experience? To start, you must make sure that your display stands are sophisticated, high quality, and completely reflective of what you have to offer as a company.
Working with professional designers is always the way to go when it comes to display stands. Again, many people may think this defeats the purpose of surviving a tough economy and that spending more money to participate in such an event will only serve to put them deeper in the hole. But consider this: trade show booths are your fifteen minutes of fame at a trade show; if you squander your fifteen minutes you'll never have another chance of making a great first impression on those companies with which you wish to do business – business that will feed your bottom line. Start off right with well designed display stands and you're sure to have a successful experience. So seek out those professional companies that will work with you to create something spectacular and memorable.
Click for additional information on Trade Show Displays
Link to top of the Trade Show Displays Blog