Trade Show & Event Calendar
Why do companies participate in trade shows? The obvious first answer is to be exposured to existing and potential new customers. How do you do this? You let people know where you'll be and how to easily connect with you.
But how we were able to help? ShopForExhibits.com is releasing a Trade Show & Event Calendar, which is what some might consider a rather unusual product for a trade show display company to be marketing. But is it really? For most retail companies in our industry, it's all about great display systems and killer graphics, but for ShopForExhibits, we're about bringing both products and knowledge to our clients in order to add value to their brands which means greater exhibiting success.
Where did this idea come from? This novel product grew out of a casual observation of many of our customer's web sites, which was that very few web sites were providing any information on future events where their products could be seen in person and presented by knowledgeable marketing executives. Plus, we found that where an "events" page was present, it most often was horribly out of date and the information was so minimal that it didn't represent the company in a very good light.
The Opportunity! This presented an opportunity to enhance our customer's marketing effectiveness that we couldn't pass up. We know that part of the problem is the technical nature of web sites. Creating a Trade Show & Events Calendar needed to be an easy and almost enjoyable process, which didn't involve HTML knowledge or any special training
Here's what we created – A Solution! The Trade Show & Event Calendar as shown below, provides basic show information and links for each event that can immediately connect users to event registration instructions, exhibit hours, housing, and other schedules.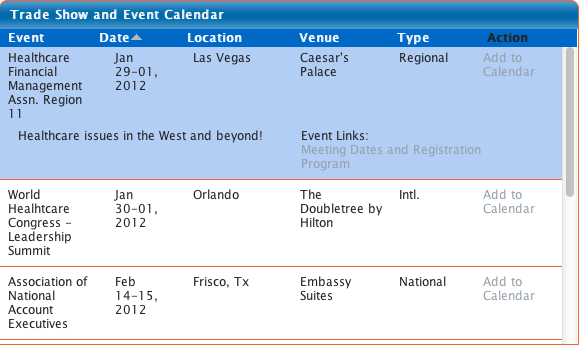 Additional Enhancements We also provide a way to get the event information straight to a prospect's desktop or smart phone calendars with a click of the mouse via the "add to calendar" link.
Add it to your web site! To add this great new product to your web site, all it requires is two lines of code on the page you want the calendar to live on and you're done. For a small fee of $100, we will create the calendar with a style sheet that will match your own web site's color, font, and style to enhance the overall appearance of this dynamic new marketing tool.
Your Feedback is Important Tell us what you think on our Facebook page and post your comments on our wall. (http://www.facebook.com/ShopForExhibits)