Trade Show Flooring
When preparing for a trade show it is important to remember all the little things; all the last minute details that are necessary to pull everything together at your booth before showtime.
Trade show flooring is a great way to further your brand image, while enhancing the design of the booth, and creating an environment that welcomes and draws people in to come see what you have to offer.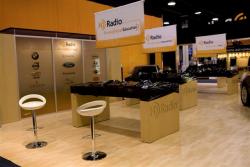 Shopfordisplays.com is a great site to visit where you can browse through their extensive, affordable collection of high quality trade show flooring that will be sure to impress you. You could start with something more basic such as comfort tiles, which really help tie up all the loose ends and complete the overall theme of the display booth. If you are looking for something a little more high end to really send out the message to all the attendees that you are a high class operation, you could go for something such as carpet logo which is offered on shopfordisplays.com in up to 3 different colors at a very affordable price.
When it comes to trade show flooring the possibilities to make your booth look the best are endless. Remember that paying attention to the smallest of details when preparing for a trade show can really help set you apart from the masses and truly stand out. Something as small as trade show flooring can give you the extra boost needed to succeed above your competitors and to send the message to everyone that you are a company that cares.
Click here for additional information regarding Trade Show Displays.