Conference Displays
Marketing with quality Conference displays is an essential part of any business. One of the most efficient places to market your business is at a convention that pertains to your services or industry respectively.
But how are you going to get your message across effectively and how do you garner the attention of your potential customers or clients and keep them engaged in your message? A very powerful conference displays purchased from ShopforExhibits should do the trick.
Conference displays, or show displays as they are sometimes referred to, are an essential tool of any business, especially where marketing presentations need to be made and potential clients or other business needs to be attracted toward your business. These displays are found in a wide variety of choices, and selection depends on the intended purpose for which it is to be used and how much your company is willing to spend. Many displays are lightweight and portable, and fairly easy to assemble. These are known as portable conference displays.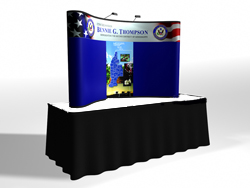 Conference displays are used for "on the move presentations" are often table top displays (left), banner stands or pop-up displays. Each of these categories of portable conference displays has several different options for you to choose from. For example, there are several different kinds of banner stands, like retractable banner stands.
Retractable banner stands are lightweight, portable, and easy to assemble. Some have cassettes which allow for changing of graphics quickly and easily. Retractable banner stands can be moved around to any place and can even take the place of excess hand luggage on an airplane. These types of conference displays are cost-effective and attractive.
Conferences are a great opportunity to generate new business, as they involve face-to-face contact with potential clients. Conference displays therefore need to create a superb first hand impression in order to get the initial attention you need and to make your presentation all the more interesting. They may involve much more than just banner or pop-up stands. Factors which one needs to take into account when presenting your product includes; lighting, backdrops, audio and visual requirements, and graphic displays. All of these greatly influence the success of any presentation.
Before undertaking any presentation, you should ask yourself what you will need to make the greatest impact? Sometimes, the use of a banner stand, (right), during a presentation is more than enough of a graphic representation,especially for a small group of people. On some occasions however, where you would like to involve the audience in your production then adding audio to your presentation will make it all the more effective. On such an occasion where there are a reasonable number of people at the presentation, then one would usually utilize more than one banner stand. Your conference displays could even consist of visual graphic presentations. All would depend on what it is you intend to present, who your target market is and what the intended preliminary budget is. ShopforExhibits offers discount prices and is willing to create Conference displays according to your personal needs.