Convention Displays
Convention displays are excellent tools that are used to draw attention to a product or service, with their main aim of attracting potential customers. They are found in varying forms and sizes because there are many different ways for you to get your message across. General types of convention displays which are used are the kiosks, pop-up exhibits, panel systems and display boards and tension fabric displays. Each convention display is designed for a specific and deliberate purpose.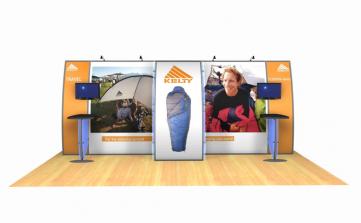 Information and brochure presentation for your company's next convention can take on many different looks by making use of a display from ShopForExhibits. From the low-cost flat panel table top display to a 10' custom modular hybrid display, your next trade show or convention is destined to be a winner. If you are in the market for a wide graphic display for your next convention, then perhaps a pop-up exhibit is what you need. This type of convention display (right) is popular because of its availability in full color and various lighting options; it does however carry the disadvantage that it can not be resized after initial selection. Pop-up exhibits are lightweight and portable, and the cases they come with can usually house all the components that are included, plus more.
Panel systems are another variety of convention displays found on the market. Panel displays can be more difficult to assemble than some of the other displays, but they are found in various shapes, sizes and colors. They carry the advantage of more reliability and sturdiness than the pop-up exhibits.
Kiosks are a smaller free standing convention displays, usually with a counter for literature or product display. A good example of where a kiosk would be used is grocery stores, where a certain food company will be having a promotion on one of their food items or where they will be launching a new product. Potential customers pass by and have the opportunity of tasting the new food item and then have the choice of purchasing it. Kiosks are often marked with the company's logo or the fabric surrounding the kiosk is in the company's colors. Kiosk displays are also used as demonstration counters and are suited for most companies because they are lightweight and portable and able to break down and build quite easily.
Convention displays also can be enhanced in a variety of ways, one which may be with the use of a banner or banner stand. A banner stand has the ability to draw immediate attention to a product because of its visual impact. Banner stands are found in a variety of sizes and can be custom made to suit individual needs. Various types of banners and banner stands can be found; these include retractable indoor banner stands, outdoor banners and overhead tension fabric banners. However you wish to enhance your convention displays, your preference will depend on personal taste and amount of money you are willing to spend. Either way, the purpose of a convention display is not only to look great, but to increase potential customer interest and company business.