Display Boards
Display Boards, sometimes known as flat panel displays like table-top displays, (right), are a quick, and easy way of setting up a great presentation at a trade show. They are especially useful where space is tight and the presenter is operating on a limited budget. Their 360 degree adjustable hinges make them perfect for drawing attention from any angle, while keeping front-and-center viewers focused on your products.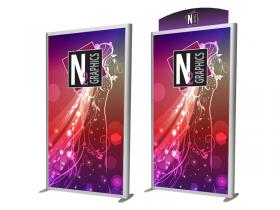 The fabric covered Display boards are also an inexpensive way of getting your message across because they fold flat and can be handled by one person easily, making travel and transport economical. Display boards come with a convenient carry bag with an extra shoulder strap for carrying ease.
Display board panels usually come in 3 panel designs, but larger 5 panel boards are also popular. Display designs with an extra top panel header for company branding are available. New modular systems allow you to customize your display boards and snap together the design you need to match the trade show or presentation.
Over the years, additional uses for display boards have come into play with the advent of shool fairs and class science projects.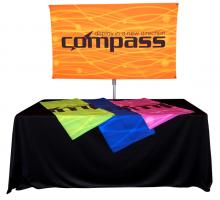 The traditional fabric covered panels were a little overkill for shool age children to make presentations with so the market adapted and pretty soon there were the same type of panel displays but now they were constructed out of newer materials such as koroplast, Gatorfoam, or other plastics at greatly reduced prices.