Display Booths
Display booths on the ShopForExhibits web site is we sell as part of a long line of quality displays that are available at affordable prices. It is essential to ensure that your display booth is of good quality if you want to successfully and professionally promote your exhibit.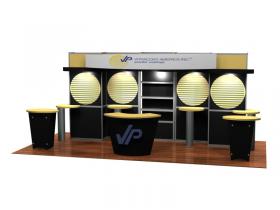 With a variety of display booths to choose from, there is something suitable for everyone. Everything from table top displays to outdoor graphic displays can be found. ShopForExhibits offers an extensive range of styles that can be trusted to meet your display needs.
ShopForExhibits provides a range of table top display booths that are suitable for presentations, information displays as well as for usage in tradeshows. Table top displays require minimal effort in setting up. Models such as the Pop Up Displays, Pop Up Table Top display (right), the Flat Panel Fabric table top display and the Tension Fabric Table Top display are available. For display booths of a bigger size, why not look into the 20' Curved Frame Pop Up Displays? This display is for bigger booths, and boasts impressive graphics. The Gull Wing Pop Up Display comes in a variety of colors and has a portable case with wheels and 200 watt halogen lights amongst other impressive features.

Pop up Floor Standing Displays, Tension Fabric structures and many other display booths are available from ShopForExhibits. There is no shortage of choice. The needs of all are catered for. The displays are offered at reasonable prices and you will get value for your money! ShopForExhibits provides detailed photographs of its products. Look into what we have to offer and you might find exactly what you have been looking for.

It is easy to take for granted the artwork involved in the creation of effective display booths. When we take the time to consider the precision and perfection that is behind the attractiveness and practicality of a display, we realize how much we have looked over. The attractive Xpressions Snap display, (left), can be reused with different graphics. It requires no tools to set up and it is available in many unique designs sure to catch eyes. Functional displays that make it all look so easy are available.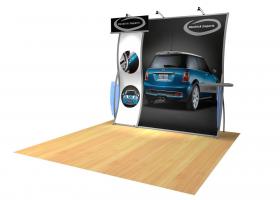 At tradeshows, you want to attract as much attention as possible. Why not make use of accessories made specifically for display booths? Improve on your display booth by making use of various display accessories such as cabinets, racks, lighting and chairs can all make your exhibit more practical and may appear more professional to admirers. When purchasing your display, consider the accessories that could compliment it.

ShopForExhibits offers a few firsts in display accessories; hooks, brackets and stands offs can be mounted onto your display frame. Pop up flat screen monitor mounts are available in sizes up to 20 inches. The monitor bracket can tilt 30 degrees both forwards and backwards and only one easy mounting action is needed to secure the monitor. These, amongst other useful features, ensure that a display booth is as practical and professional as it can be.
For all your display booths needs, ShopForExhibits is your Tradeshow Display Superstore! There are many products available that you can add to your shopping basket in order to improve on your display at tradeshows and when you need to present information in general. New exhibit designs in many different styles and models are available. Different price ranges are also catered to here. Make the most of your exhibit and choose the best display booths to compliment your presentation.