Exhibit Displays
Quality exhibit displays that you purchase to display your products and services at a trade show is the perfect platform for sourcing new customers for your up and coming business. A trade show is a gathering of business representatives in a single location, and this allows for clients and customers to come and see what a particular industry has to offer.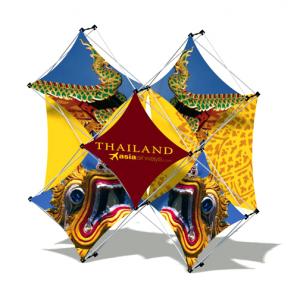 For example, at a hobby or crafters trade show, hundreds of different companies that specialize in scrap booking, bearding, jewelery making, toy trains, remote control cars and many more will gather to show what they have to offer the industry. Making sure that you have the right exhibit displays is crucial to any participant's success in the trade show.

There are a number of options for different exhibit displays that are available to you and your company, and your choice in the matter is guided by what your company does, and how they do it. For example, a company that makes bubble gum which is marketed towards children would do well to get a display that is bright, fun and innovative. This kind of display will attract the attention of little children and parents, and get them interested. This company should not have a display that is clear cut and looks sophisticated – that would attract more professional passers by who might not be interested in bubble gum in the first place.

On the other hand, someone who is exhibiting magician wares and fun magic might have a traditional black exhibit(left), so that attention can be focused on where the magician wants his audience to look. If that same magician uses a multi color graphic then the audience will be focusing on the display rather than on the product. It is essential that exhibit displays are there to support the product and make the most of the area in which you have to exhibit – so choose your displays carefully. It is often useful to talk to someone who knows all about this industry before you purchase your displays. At ShopForExhibits, we can offer that expertise, with over 30 years experience in the trade show industry.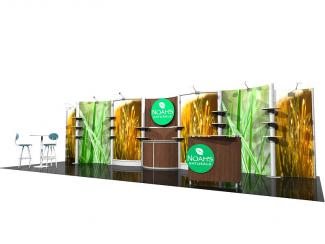 There are a number of structural elements that come into play when you are setting up your exhibit displays.
You want to make sure that your displays are easy to assemble and take down, and that it can be done with only one person (just in case). Pop up displays are a great way to overcome a space issue, as they can be stored in compact display cases when not in use, or assembled in a few minutes when needed. With just a quick extending of the structured frame, and application of channel bars, your frame can be set up easily. Attach the graphic panels, and the set up is complete.
In just a few easy steps you can have your exhibit displays looking better than everyone else's. It is important to remember that people like it when effort is taken to look after the small things, for example, specialized to separate your booth from others, or fancy lighting that makes a really good impression. Choose the exhibit displays that best suit your business and enjoy attracting new customers at the next trade show.