Exhibition Displays
Making a memorable impression is a crucial part of a successful exhibition – it's the entire reason you're there in the first place. While a lot of work and preparation goes into making sure your exhibition is well-organized and effective, there's one more piece that's just as important as everything else: your exhibition displays.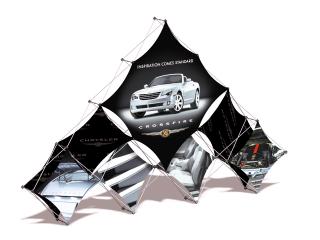 Having a display that reflects your corporate image and establishes you as a serious, professional exhibitor goes a long way towards making your exhibition productive.

There are many types of tradeshow exhibition displays to choose from, ranging from small tabletop units to grand gull wing displays. You'll find the perfect display piece at ShopForExhibits, no matter what your requirements or your budget.
Table top pop up displays, (right), are perfect for those less-than-roomy display booths, or when you want to call extra attention to a particular part of your overall exhibit. Fabric panels and optional add-ons like wraparound headers or table throws add the perfect finishing touches to your display – putting all the grandeur of a large display piece into a compact tabletop unit.

Calling attention to your exhibition displays is of the utmost importance – you'll never get to sell your message if no one stops to listen. Banner stands are a great way of catching the eye and adding a little extra finesse to your exhibit. These displays are designed to protect your graphic, as well as make it easy to set up and take down. Banner stands come in a variety of sizes and shapes, assuring a perfect fit for your display piece.
To make a really big statement, there are full height flat panel exhibition displays, (left). These serve as excellent backdrops to your entire exhibit and can be customized to fit in with your corporate identity. Backlit headers add extra sophistication and can be used to highlight important elements of your showcase. Optional counters make the display easy to tailor to your specific needs. Combined with other display pieces and accessories, these full size displays will add impact to your booth.

You'll want to be sure your visitors leave your exhibit with something to remember you by. A popular way of achieving this is by providing literature for people to take home and review. To combat the difficulty that is sometimes encountered in getting people to pick up a brochure, try an eye-catching literature stand to showcase your brochures. These fully collapsible exhibition displays are easy to set up and stock, give added depth to your overall exhibit and encourage visitors to pick up your literature.
Whatever you are exhibiting, and no matter the scale, having a professional, sleek-looking exhibit is important to selling yourself – and your company – properly. By incorporating high quality, purpose-built exhibition displays and accessories, you not only make the most of your exhibit space, you ensure that your visitors will walk away with the best opinion of your company possible. For any budget and any purpose, ShopForExhibits has everything you need to make your exhibition displays as professional – and memorable – as possible.