Graphic Display Cases
Why choose a graphic display case? Display cases are the perfect way to present your items in a secure way when you don't want people physically handling your products. It just makes good sense to enclose them in a display case rather than leave them exposed and risk damage, theft or harm to those around.
Enclosing your product in a display case makes sense if you're a jeweler, have a delicate model or exposed electrical or electronic systems on display. Display cases are also useful for storing valuable items at home while keeping them on display, or for museum exhibits. People who win sports trophies or have a collection of medals often house them in a display case. Trophy cases usually have a lockable front door for easy access to the valuable awards. The doors made for display cases can be hinged doors or sliding doors, and are chosen to fit the space they will occupy.
Looking for display cases to best show off your products? Try these on for size...
Traditional square display cases have cubic wooden frames and glass panels. One of the panels acts as a door and can be locked or opened with a hidden catch.
Graphic Display Cases are usually custom made to fit a particular need, for example to store a collection of antique dolls, but modern display cases come in such a variety of shapes, sizes, colors, and materials that you are sure to find one to suit your display items.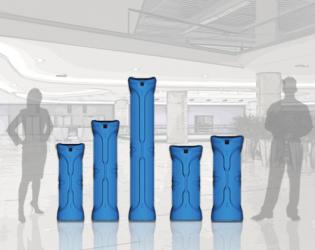 Shadow boxing
Shadow boxes and table-top display cases are ideal for showcasing valuable documents or works of art. Museums often use these types of display cases for traveling exhibits. Historical presenters want to give the public the best view of the artifact without the risk of it being damaged by curious observers. They are usually designed to be portable and have hinged lids that fold away or can be removed. Shadow boxes are also made to stand upright or at an angle, depending on the viewing needs. Some models even have picture hooks and can be mounted on walls or display stand panels.
What's in a case?
Display cases are traditionally made from ABS plastics because they economical to make and are very durable.
Modern graphic display cases can be made from lightweight extruded aluminum with Perspex®, Plexiglas® or acrylic-sheet panels, giving the audience a 360 degree clear view of the exhibit. The added strength and lower weight of aluminum display cases allows the case to be transported internationally. Some display cases can be disassembled into flat panels for transport, or have dedicated flight cases that protect the panels and give the exhibitor an easy way to carry the display case.
Light your exhibit
Graphic Display cases can have lighting from small halogen bulbs or miniature neon lights. As most display cases have transparent front panels lighting it from outside the case may cause unnecessary reflections. Many modern display case systems have lighting systems neatly hidden in the metal framework. The wiring runs down the interior of the frame giving a polished and professional appearance.