Hybrid Trade Show Displays
Hybrid Trade Show Displays defines a class of trade show displays that are created with a combination of some of the customary elements used in the industry over the years such as aluminum extrusion and laminate, but combines them wtih newer components such as tension fabric.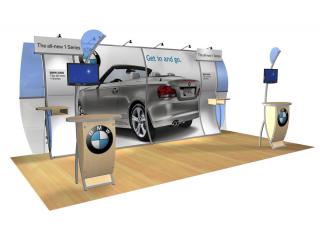 In recent years, tension fabric has been responsible for driving the creativity in design of Hybrid Trade Show Displays. Newer methods of production have now put fabric graphics on an even playing field with the more costly methods used in the past and because fabric is less expensive to print on, and so much lighter in weight and is resistant to damage. It's quickly becoming the industry favorite.
Another reason that Hybrid Trade Show Displays are become so popular is the cost to reprint graphcis when new product are introduced or updates are needed. A typical pop up display will cost about $2,500 to replace 6 photo mural panels while fabric graphics will easily be 25-50% less. Because the cost to maintain and the cost to ship and store the new hybrid trade show displays is so much less than other styles of displays, it's becoming a huge sensation industry wide.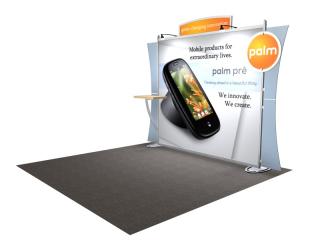 Along witih tension fabric, aluminum extrusion has become increasingly more popular due to applications with fabric with Hybrid Trade Show Displays. The new silicone edge graphics along with the new aluminum shapes that accupt this particular graphic, are beginning to revolutionize the graphics world all over again. Silicone edge graphics allow a perfectly tight fit with a bare minimum of metal exposure. This application is not only popular in the trade show industry but also with wall mounted graphis in offices and other public building.
With new materials and new applications, you can expect that Hybrid Trade Show Displays to just keep evolving and getting better with each passing year.