Perfect 10 Hybrid Displays
The Perfect 10 Hybrid Displays system by Classic, has proven to be not only one of the more unique new systems in 20 years, buy has provided a new excitment in portable displays not seen in decades.
What makes a portable system exciting? Well...
begin with a shape that truely is unique; so much so that it's patented. You no longer have to look like one of those concave things that are lined up one after anther, aisle after aisle, in show after show. You can dress it up or dress it down, but the Perfect 10 Hybrid Displays will stand out in a crowd regardless of the venue.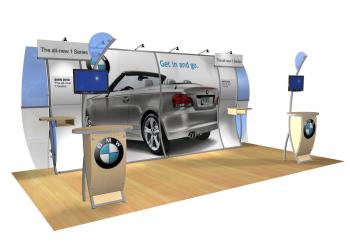 Classic has created a host of absolutely fantastic looking accessories fo the Perfect 10 Hybrid Displays and Perfect 20 Hybrid Displays line up, and has given the exhibitor the opportunity to go wild with graphic at the same time and not break the bank. But first the basics; you can set the entire Perfect 10 Hybrid Displays system up with one person and not tools which means "no union" thugs sniffing around your booth looking for a free handout that they don't deserve. In other words, "you win."
This is the perfect upscale system for corporate America which allows you to look different and still stay within budget and get noticec at the same time. In additon to a great new look that will differentiate you on the show floor from your competition, the Perfect 10 Hybrid Displays has some of the best packaging in the industry which in essence creates a place for each part so each component will only fit in the desired place in the shipping cases. So live a little and experience the model of Perfect 10 Hybrid Displays that's right for you.