Portable Tradeshow Exhibit
Today's tradeshow environment is very competitive, so full-size, full-color custom photomurals blanketed upon a portable tradeshow exhibit are the best way to ensure your company gets noticed. A portable tradeshow exhibit is very mobile and will create a polished, professional image for your business.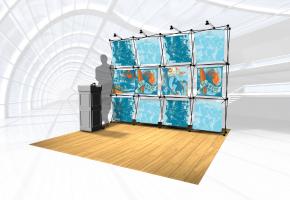 The first few seconds is usually all the time you have to get the attention of the potential customer walking by your trade show booth. Why not give them something to stop and stare at.
A portable tradeshow exhibit is esentially like a mobile office, a place where you get to make new contacts and present your products and services to potential clients. The most important aspect is to have a portable tradeshow exhibit that grabs attention. Your company's name, logo and tagline should be brought to the forefront, so that first glance turns into an interested ogle. Unfortunately, tradeshow displays are similar to billboards in that you only have a few seconds to catch a potential client's attention.
Customers are more likely to walk past your exhibit if they do not know who you are. Ensure your company name and logo is striking and is the centre of attention. This will also catch the attention of many current clients that you will be able to reconnect with. Portability, easy and quick assembly, as well as stunning graphics make these display systems the most popular products in the industry.
There are a variety of portable tradeshow exhibit systems available to ensure your company gets noticed. Popup tradeshow displays provide a classy and attention grabbing presentation, as they contain a large surface display which makes them ideal for trade shows, events, even office lobbies. Hanging displays, like overhead tension fabric structures, (left), are perfect for large trade shows and retail spaces like restaurants or malls. Tabletop displays are lightweight and are an ideal choice for those requiring a quick presentation display or exhibit.
Portable tradeshow exhibit ranging from table tops to 20' x 20' booths can be customized exactly to your specifications and have virtually no set-up time. Table top displays have been designed for small to large companies who are looking to present themselves on a more intimate level with their customers. These displays are lightweight and transport easily in a carrying case. The self-packing flat-panel system is a great example; a self-contained trade show exhibit used in corporate meetings as well as small scale business presentations, with a set-up time of less than 15 seconds! Or, if you are constantly traveling, perhaps a briefcase style presentation display is the way to go. Complete with a handle for carrying around, these tri-fold, hard cased portfolios are excellent for the frequent traveler, ranging in weight from five to eight pounds!
Another popular portable tradeshow exhibit system is the banner stand, (right). These come in a variety of styles, from retractable, tension pole, multi-sided, scrolling, outdoor and flag-type. They can be found in museums, shopping malls, department stores as well as parties and events. They also can be used for product demonstrations, training sessions and backdrops. Market your company, your products and services perfectly, with the use of a portable tradeshow exhibit.