Portable Tradeshow Travel Cases
Your company just bought a new tradeshow display to show off the new product line you are launching. This unit is going to be travelling with you to show after show, city after city on a journey to educate and promote what it is you have to offer. How are you going to keep your new purchase in good enough shape night after night, plane ride after plane ride? With a quality portable tradeshow shipping case, that's how!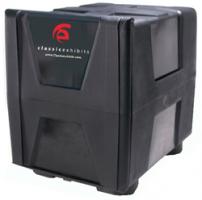 Portable tradeshow shipping cases come in many sizes and styles to fit the various choices of tradeshow displays on today's market. Whether you have a banner stand and need a smaller over- the-shoulder type case, (left), or you have a 10' pop up display and need a larger formidable case with wheels, (right), you will still need solid protection from any potential damage.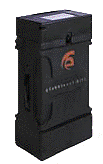 The beauty of portable tradeshow shipping cases are that most of the bigger ones can be wrapped in fabric or a mural and converted into countertops or podiums. Imagine what a hassle it would be if you had to stash your case somewhere in a crowded exhibit hall because it's just too big to keep in your 10 x 10 space. Not any more! Purchase a case-to-counter conversion kit from ShopForExhibits and you can turn that extra baggage into a useful and attractive side display to place your product or literature onto.
Whether they are oval, square, rectangular or cylindrical, you can always find a portable tradeshow travel cases to meet your needs. You've made the investment in your display, why not invest in some added protection? It only makes sense to keep your tradeshow display looking crisp, sharp, and practically brand new which is why a portable tradeshow shipping case is a great investment.