Retractable Show Banner Stands
Retractable Show Banners stands have quickly become the preferred method of displaying a message or creating an impression on a large scale with minimum amounts of hardware to contend with.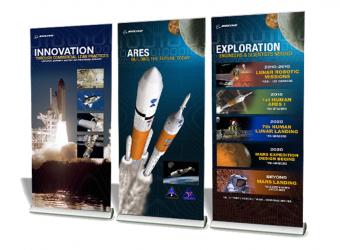 At Shopforexhibits we not only have found a great market with those customers who are in need of a display solution for a fast presentation, but for those larger exhibitors who with larger booth spaces need a medium which will provide reinforcement for individual products promoted on larger exhibits.
Product lines such as the Pronto, Quickscreen, and Media Screen retractable banners stands are the mainstays of the exhibit industry and provide a range of solutions that will satisfy every exhibit need. From the 24" wide Pronto to the 10 foot tall Media Screen and the Outdoor Banners Stands; there's something for every need.
In addition at Shopforexhibits we also offer design assistance for those businesses and organizations who don't have a design department to create the graphic files for the Retractable Banners Stands. This not only helps those on a small or fixed budget to be able to compete as far as image with larger competitors with more resources, but takes much of the hastle out of the process as well. Here are a few of the many options you have available with Retractable Banner Stands:
Widths from 23.5" to 33.5" 39.5" and 47"
Heights from 35" to 10'
Custom Casing Colors
Removable Cassette for quick change out of a graphic

See all our Retractable Banners Stands at www.shopforexhibits.com