Sacagawea Hybrid Displays
Innovation just became more fun with the New Sacagawea Hybrid Displays by Classic. Enjoy some of the fun designs that the other heavier and more expensive hybrid systems have but only pay a fraction of what they cost!
...and it just keeps getting better; it all fits into ONE case for the basic models so will never need a crate to ship it in because it goes into a standard flat panel case.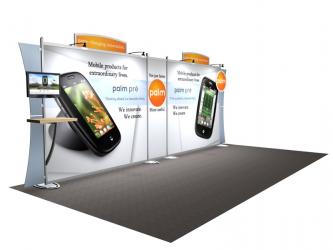 Yes, the Sacagawea Hybrid Displays System is a product of some creative thinking and innovation, so what are you waiting for; explore all the new models and features both in the Custom Modular Hybrid Displays section and for even more selection, go straight to Exhibit Design Search.
Classic has created a new product line that combines simplicity with style and ease of use at a price point that has hit a nerve with the buying public. As an exhibiting company, you can get big exhibit impact with the Sacagawea Hybrid Displays at a pricepoint that will amaze you. Not only can you dress up your display, but you can also do it without breaking the bank. In addition, Classic has created this product with an ease of use that heretofore only pop ups could provide. No Tools is the way to go and if you're frequenting union halls and staring into the eyeballs of the typical union thug, this is great news. Most halls leave you alone if you don't need tools, so rejoice in the fact that the Sacagawea Hybrid Displays might be named after a legend, but it also performs like one too.
Also don't forget to take a look at the Sacagawea Table Top Displays too!