Show Booths
It is essential that your Show Booths are both attractive and practical. After all, isn't it a reflection of you and your product? Trade Show booths of good quality and value for the money, are an investment in your company's future.
Here at ShopForExhibits, we pride ourselves on our large selection of quality displays. If you are looking for affordable yet high quality show booths, ShopForExhibits has exactly what you need.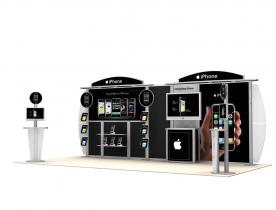 Our Show Booths come in a range of sizes to suit all presentation requirements. If you are looking for a display that can rest on a table top, you might be interested in a pop up display, flat panel display, (left), or perhaps a tension fabric display. If you are looking for a display for a larger exhibit area, maybe the Burst line of Pop Up displays will fit the bill, or perhaps a Perfect 10 modular hybrid is the choice. Want to really wow 'em? The Full Photomural Gullwing 20' Pop Up Display, (below right), will definitely do your exhibit justice.
If you need to display information outdoors, the Skyblade banner stand could be what you are after. Need flags for your parking lot sale? Perhaps you could use a couple of Banshee banner stands.
Looking for easy to assemble lightweight Show Booths? At ShopForExhibits, we have the best flat panel display system in the industry! This type of show booth has a series of carpeted panels made from a lightweight material called Gatorfoam, that hinge together using a patented 360 degree hinge. With leveling feet placed on each panel, this display is solid, sturdy, and won't break the bank. Counters can be connected at any level of the panel too. This is a show booth that is out to impress! Models come in 10 foot and 20 to 40 foot fabric panel sizes.
ShopForExhibits also offers the best in display accessories that can compliment your Show Booths. Chairs, literature racks, lighting and flooring are all available for reasonable prices. When purchasing a display, take time to consider the accessories that could enhance it. For example, you just bought a table top display...why not buy a table throw or table runner, (left), with your company's logo on it to place the display on. Remember: the better your display is, the more justice you will be doing with your exhibit space.
ShopForExhibits has mastered the art involved in Show Booths. Trust us to help make your display as professional and practical as possible. With such a variety of products and such reasonable prices it would be a mistake for you to go anywhere else. Come to us and we will satisfy all your Show Booths needs with no regrets!