Show Displays
If you are a small business owner looking to purchase a show displays for a trade show for the very first time, it can be a very confusing experience. With all the different types of show displays available to you, how do you know exactly which one you will need in order to attract the most customers to your trade show booth?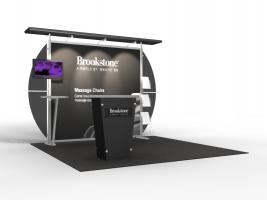 There are a few important points to remember when deciding on a show displays. The type of display you choose is very dependent on a) the amount of money you are willing to spend, b) the size of the show display you require and c) the type of audience you are looking to receive. You will need to determine if your target market has a very specific need or if your product is general and will appeal to everyone. Your show display must make it clear to the audience about who you are and what your company and product does. Many people don't have the time to stop at every trade booth so you need to get your point across in the instant they look at your show display, so make use of decent graphics to attract as much attention as possible. A very good way to narrow down your search while keeping all these points in perspective is through our Design Search function here at ShopForExhibits.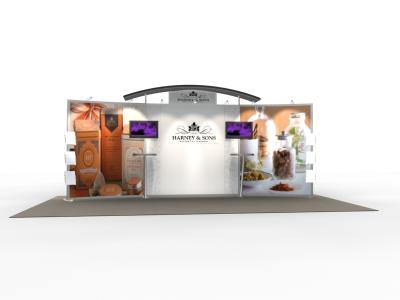 Larger booths are easy to see and can accommodate bigger volumes of people for you to sell to. The size of your display graphics are also very important, as this is what you need to catch the consumers' eye. The position and size of your logo as well as the wording that you may choose must also be eye-catching and concise. If you are having any trouble, ShopForExhibits offers the best advice on how to make your show displays really blow the competition away.
If you are struggling with your trade show displays vision, it is best to talk to professionals. ShopForExhibits is the best place to start. We can help you with all your trade show display needs and help you find a solution that best suits your wallet. We have various show displays available in virtually any size. And don't worry if you're in a rush...ShopForExhibits can ship most products in 24 hours so we can help you out even at the very last minute.
At ShopForExhibits, we understand that no one knows your customers better than you do. Therefore we will provide you with the best quality service and advice, all while keeping you in charge! Our professionals are here to answer all your questions and give you some of their own input and ideas. Remember even the smallest changes can make major differences when setting up a trade show displays. Call us today to create a successful exhibit for your company.