Show Displays
To create the right effect and impact on your target market, you have to have proper show displays that reflect your precise image and identity. At ShopForExhibits, we offer a full menu of tailor made trade show displays at below retail prices. Browse our SWeb site and you'll see that our selection can't be beat.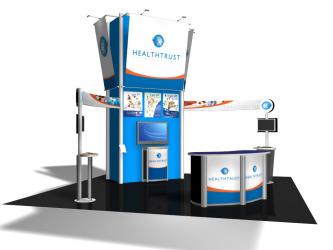 At ShopForExhibits, we'll make sure that your display leaves the competition green with envy. Sporting The Wall Graphic System, an Xpressions Snap (left), Perfect 10, Quickiscreen Banner Stand, or Burst Pop Up Display is a sure fire way to turn heads at any trade show. We have relationships with manufacturers across the USA, who use only quality materials and top notch craftsmanship. Couple that with superior customer service and you won't want to go anywhere else.
ShopForExhibits staff are experts in the realm of all things related to trade show displays. We will not sell you a trade show display that is too large or too small in relation to the message you are trying to convey. Need a smaller display for the end of a grocery store aisle? Why not try one of our Pronto banner stands. Looking for an attractive booth for your annual electronics fair in Las Vegas? How about a 30' Truss and Panel Stand Kit (right). Need a large banner or flag for your parking lot clearance sale? Try a 13' Banshee banner stand, available in six different shapes. The options are just endless!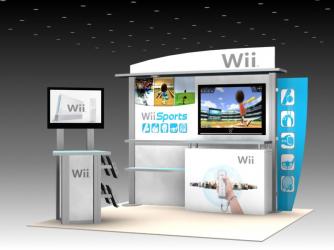 Accenting your display is also a great way to garner more attention. We offer a large inventory of trade show display accesories that will give you an edge against the competition. Adding a table throw or runner to your table top pop up display is always a good idea. Lighting up your trade show displays with a few overhead display lights will literally make you shine. If you are going to be presenting for a series of days on a hard convention center floor, maybe you could use some Comfort Tiles to help lessen the impact on your feet. Or perhaps you could use some Tital Literature Rack (left) to hold all the important marketing collateral you wish to distribute.
On a budget and want to narrow down your search by price? With our unique Design Search function, you can enter your specific criteria and find exactly what you are looking for based on price, size, and over 15 different categories. If you still can't find your idea trade show display using Design Search, give us a call, toll free, and we'll be more than happy to help you.
At ShopForExhibits we make it easy for all of your trade show displays and presentations to catch the eye of the required consumer. Most of our displays are ready for use right off the shelf, but we also gain great satisfaction in working with you to create custom designs that can bring your vision to life. Our in-house design staff can help you get out of your creative rut by designing your display art for you, or simply by helping you with your layout if you are pressed for time. Your vision becomes our vision!
When you are trying to organize an exhibition or presentation you don't have much time to waste and that is what makes ShopForExhibits more than just an internet trade show displays store. We can help keep you on task and help manage your project, leaving you worrying only about your sales pitch. With over 30 years experience in the trade show displays industry, ShopForExhibits is your Tradeshow Superstore!