Trade Show Banner
Are you searching for an eye catching trade show banner stand that can provide passers by with information about an event, function or service, or perhaps the launch of a new product or business opening? At ShopForExhibits we have the solutions; providing you with a plethora of cost effective Trade Show Banner plus stands and flags.
Our professional advice and service excellence will ensure that you find a tailor made solution for getting your message out to the public in a BIG way!
A Trade Show Banner stand is an attractive and efficient method of advertising or making your product or service stand out to potential customers. Having the right marketing medium can make or break a new product launch. You have to use strategy when planning out your advertising, which includes determining how big of a display you need. Bigger is not always neccessarily better. A quick, easy and economical testament to this adage is the banner stand.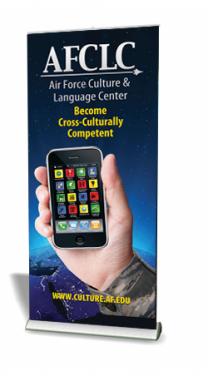 A banner stand, (right), is a sturdy, vivid cloth display that is ideal for advertising multiple or singular messages to the browsing customer. Since they are eye catching to direct clients, they can be placed in a section of the trade show or exhibit hall where there is heavy traffic. They are also great to use as complements to larger trade show display stands, like 10' pop ups or full height fabric flat panel systems.
ShopForExhibits has a superior range of displays; from trade show banner stands, customs modular hybrid displays and Xpressions Snap displays, to the little things, like presentation lighting and accessories, we have everything to meet your needs. We can even go a step further by catering to custom requests for display stands or banners that will complement your business or service in the best way possible. Browse our Web site and see just a few of our products available. We guarantee that your display stand will meet your specifications and will suit your advertising budget. If you do not find what you require, contact our friendly and helpful staff and we'll go out of our way to find a solution to fit your needs.
ShopForExhibits can give you advice on where you would like to place your stand and we can suggest the right product for you according to what you need the display stand for. Should you need weather proof banners, (left), or display stands, we can supply you a variety of all weather displays that are durable and long lasting. All of our trade show banner and display stands are manufactured from the highest quality materials and guaranteed to give you peace of mind. Our huge range of trade show banner stands, coupled with our professional graphic arts team, are sure to please you.