Trade Show Exhibit
Trade shows are a demanding experience which can be deeply rewarding for the bottom line of a company. Companies both big and small can reap enormous benefits from having a memorable and engaging display at a trade show. Don't let the market ignore you!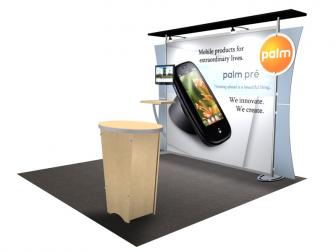 Exhibit your merchandise in a way that demands to be heard, and watch the profits rise. At ShopForExhibits, our display systems can help your trade show experience become a huge success. You can find a trade show exhibit that is easy to transport, put up and take down, which leaves more time for you to give potential customers and clients the care and attention they deserve.
ShopForExhibits offers the highest quality displays for all your trade show exhibit and exhibition needs. With one of our large variety of exhibits, your company can be assured that they will leave a lasting impression. From the portable banner stand or table top display, to full height pop ups and custom modular hybrid displays (left), we have just the item you need to add spice and pizzazz to your trade show exhibit. Our displays make the most of your trade show and exhibition potential. Given the high level of competition at trade shows and specialized business exhibitions, you need an edge to set you apart. With over 30 years experience in the industry, we know just how to make your next show something special.
Whether your company attends a trade show once a year or does the rounds of many during the year, maximizing your exhibit is vital. Being recognized is good, but being remembered is another thing. For customers who attend the trade show intending to buy, the competition for their money can be pretty fierce. You want to make your trade show exhibit out over your competitors. At ShopForExhibits, we can help you get the results you need and maximize your impact with efficient, memorable and attractive displays that are easy to use and reasonably priced.
Make your trade show exhibit unforgettable and attractive by choosing ShopForExhibits. With our top notch customer service and unbeatable knowledge of the industry, you'll be glad you did.