Trade Show Exhibit Displays
With today's challenges of stricter budgets and more fierce competition, it's a dog-eat-dog world when it comes to marketing. In the arena of trade show exhibit displays, so many companies struggle to produce an effective trade show exhibit booth, often wasting precious time and resources on products that are complicated and over-priced.
Why burden yourself with the minutiae; it only makes sense to employ the experts at ShopForExhibits to help you find the best display options available today.
A trade show exhibit displays must be eye catching and intriguing to a consumer or the chances of them approaching you is very slim. ShopForExhibits carries many different types of displays so there will always be an option for you and your company. If you are having trouble discerning what size trade show exhibit or display you need, we can help. If you need help with your artwork, or, are in a serious timecrunch, again, we can help.
The size of your exhibit space is one of the biggest determining factors of what size display to purchase. If you have a 10' x 10' space, you could go with any of our table tops, flanked by a few banner stands perhaps. Or maybe one of a number of different models of full height pop ups, flat panel fabric systems, custom modular hybrid displays, or Xpressions Snap tension fabric booths, (left)? Want to put a little excitement into your display? Trade show accessories that will add an extra flavor to your presentation are also available. Table throws or table runners with your company logo and color always look nice. You can mount a flat screen LCD monitor onto your full height display that will keep potential clients and customers captivated, leaving you free to entertain questions from others. Maybe you could use a literature stand to house all your promotional material? Extra display lighting will always keep you in the spotlight as well. The possibilities are endless!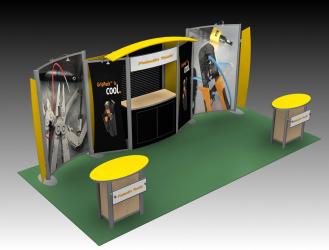 If the size of your trade show exhibit displays booth is larger, for example a 20' x 20', ShopForExhibits offers many different configurations, including off-the-shelf and custom booths and workstations, that will fit your needs. Perhaps you could wow the crowd with a V Burst Fabric Display, (right)? How about a 20' serpentine pop up with full photomurals of your company's theme? These are just a few ideas. If you want to see more, you can using our unique Design Search feature, which allows you to narrow your search by booth size, model, and price. The options are just endless when looking for effective yet unique display options. With a 15% discount off the retail price and no sales tax, they are all very affordable, allowing anyone to show a sense of expertise and perfection.
At ShopForExhibits, we understand that trying to set up a trade show exhibit displays for an exhibit or presentation can be very time consuming and that is why we created a website that is easy to navigate. We give you the chance to browse through our vast inventory of trade show exhibit booths and make a purchase online in your own time. So stop wasting time and money and order a trade show exhibit displays from ShopForExhibits today!