Trade Show Exhibits
Craftsmanship, Reliability, High Quality; These all describe the many unique lines of trade show exhibits that we offer at ShopForExhibits. As our name says, we have created an easy way to purchase high quality trade show exhibits and displays without ever leaving your office or home.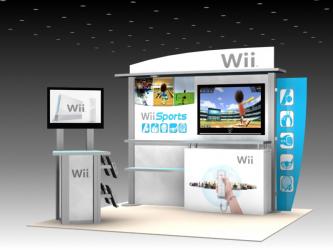 Let your competition run around town, visiting showroom after showroom, wasting time and resources. You have all the information you need...just a few mouse clicks away! Why waste precious time searching different stores for a trade show exhibit you may not find when you can browse the Web pages of ShopForExhibits and find exactly what you need.
At ShopForExhibits, we pride ourselves on two things: our customer service and our quality merchandise. Let us supply you with everything you need for trade show exhibits including all accessories. From smaller trade show exhibits, like banner stands and table top displays, to full size 20 x 20 custom modular hybrid displays (below), we can make sure your next trade show exhibit looks sharp as a razor blade. When looking better than the best really matters, you're guaranteed to stand out in a crowd with a luxurious 20' Visionary booth. Need something smaller? How about a 10' curved frame pop up display with a full photomural of your company's message in rich, vivid Lambda Bright color?
ShopforExhibits is a comprehensive website constructed for your convenience because we understand that as the organizer of a presentation or exhibit you don't have time to waste. We have a vast array of quality, high end trade show exhibits and accessories that will make shopping around unnecessary. You may find cheaper displays out there, but you won't find the same quality or customer service anywhere else. Our customer service is unparalelled!
So when you're looking for a new trade show exhibits for your company and want a product and a company that won't let you down, ShopforExhibits is your Tradeshow Superstore!