Trade Show Graphics
Trade Show Graphics are vital when you're showcasing your business at a trade expo or convention, you want to make the biggest impression possible. This can be difficult to achieve when you're competing against dozens or even hundreds of other companies, all fighting for the attention of the same visitors.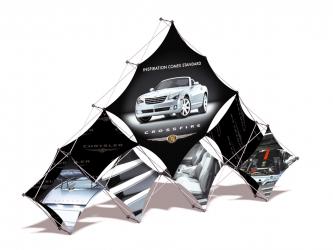 Even though your task may be to get your message across effectively once visitors stop at your booth, getting them there in the first place may be more important. An attractive and sophisticated exhibition draws the eye and creates interest – making visitors more likely to stop and give your exhibit a second look. This interest can be created through the effective use of top-quality displays, eye-catching graphics, and an overall design with that professional touch.

The Trade Show Graphics you choose for your Display plays a big role in conveying your message. From the quality of the graphics to the content they display, your corporate identity is reflected, giving customers an idea of your company's personality. At ShopforExhibits, we know it's important to choose graphics carefully, in order to ensure that the image you project matches the message you want to send.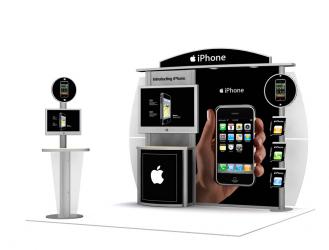 Start by choosing only the highest-quality graphics you can find and afford. Low quality graphics send a less desirable message about your business and its success and could seriously hurt your visitors' perception of you. High quality graphics, on the other hand, showcase your company's professionalism and dedication to quality, assuring customers that you are a top notch organization, serious about your product(s) or message. At ShopForExhibits, we use top of the line Lambda Print graphics on all our photo prints, headers, and murals. The technology is the best in the industry.

Also consider the overall message conveyed by the Trade Show Graphics you choose. If you want to give off a young and energetic vibe, use bright and funky colors and fun, dynamic photos to help get your message across effectively. When focusing more on a serious corporate image, choose classic colors that convey elegance and images that suggest timeless professionalism. Make sure that your images and the message they convey match with the feel of your business and your product or service in order to build the strongest corporate identity. This will cement your brand in the minds of your visitors.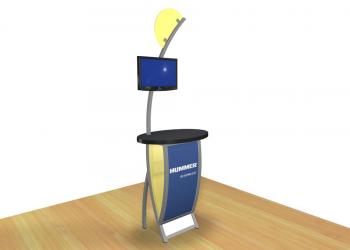 Choose displays that highlight your chosen graphics in the best manner possible. Draw attention to key Trade Show Graphics through the use of well-placed header lights or spotlights. Place literature in attractive stands, drawing visitors to them while saving space for other items. Strategically placed counters can highlight specific items that you want to call attention to, or give your customers a convenient spot to fill in forms or communicate with exhibit workers. Customize display pieces with graphics such as your corporate logo or images of your products to give the entire display a cohesive overall look, and a professional, well-planned appeal.
Choosing the different features of your Trade Show Graphics display is an important part of putting on the most effective and productive exhibit possible. Not only does it look great and attract visitors, it speaks volumes about your company and its ideals. Plan each detail carefully, from products to graphics, and send the clear message to your visitors that your business can offer them the best quality and service.