Tradeshow Displays
Since the advent of the convention hall, large forums filled with very ornate tradeshow displays are nothing outside of common in the marketing world. In fact, it is very important to be noticed and stand out at any customer-filled event or you won't make money or get clients. Having an eye-popping trade show display is the first step in making sure your company attracts the audience you want, and the results you deserve.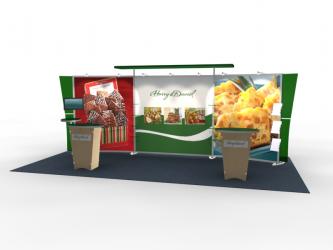 Tradeshow displays come in many different shapes and sizes. Determining which one you need is all dependent upon your theme and message, how big of an area you are allowed at the trade show, and how much you are willing to spend. Another determining factor may be the portability of your display. Can you carry it on a plane or throw it in the back of your car? From lightweight pop ups and banner stands, to full height custom modular hybrids and flat panel displays, ShopForExhibits carries everything you need to make the patrons at your next show stop and stare at your glorious, high quality trade show display.
Need a formidable, yet easy to assemble tradeshow displays? Full height pop up trade show displays (pictured above) are one of a whole variety of displays that can get you noticed real quick. An aluminum frame covered with fabric panels and/or photo murals provides a diorama that's big enough to succinctly get your point across. Mount an LCD flat screen monitor onto your pop up and blow your competitors away with informative electronic presentations that are sure to keep people's attention.
If you travel from show to show or meeting to meeting and need something quick and easy, another great tradeshow displays option is a banner stand (pictured below). These displays are available in different models and sizes so you will find one to meet your needs. They are economical and can set up in seconds. In some banner stands, the graphics can even be swapped out using replaceable cartridges containing new graphics. How versatile is that!
What really matters most is that you are satisfied with the tradeshow displays that you purchase. At ShopForExhibits, there is no pressure whatsoever to buy something that does not fit your budget, theme, or convenience. We pride ourselves in making sure you aren't just buying a high quality tradeshow displays, but rather finding a friend in the industry that you can trust...year after year.