V Burst Graphic System
The V Burst Graphic System is an all-in-one pop up trade show display with a fabric graphic attached via Velcro right to the frame. You never have to assemble separate graphic or fabric panels or hassle with too many parts or tools. Simply take it out of the case, pull it open and sit back and enjoy your display.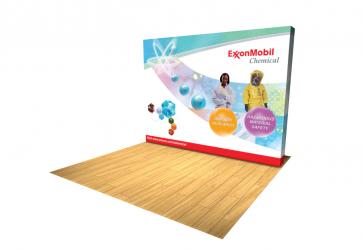 It's available as either a flat wall or curved display and sets up in seconds, not minutes. Due to it's lightweight nature, it's fast becoming a favorite with many!
If you have a trade show or a presentation in which you are in and out quickly or perhaps you perform multiple presentations in a day, the VBurst Graphic System (right) is one that you should seriously consider. When the Burst is set up, the graphic unfolds with the frame and stretches to form a completely smooth image across the entire display. Using a Kaleidoscope Select Dye Sublimation printing process - the industry's best - your graphic image will be vibrant with rich, vivid colors on a quality poly-knit fabric.
The V Burst Graphic System has taken pop up displays and exhibits to a whole new level. Not only has the Burst led the way in innovation by attaching the fabric directly to the frame, but it's also taken the weight and the expense out of large image displays. While it can perform the same function that a larger standard fabric panel or photomural pop up display can, it also can be purchased as a straight or curved frame table top display (below) as well.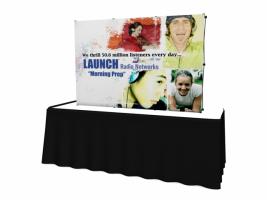 ShopForExhibits offers a full line of V Burst Pop up graphic trade show displays and kits. Perhaps you need lights and a table throw to complement your Burst display...we've got you covered! Choose from one of the many kits we offer for both 10' and 20' trade show booths.
If ease and simplicity are not indicative of your past trade show displays, try a V Burst Pop Up Displays from ShopForExhibits today. With our many different configurations, there is surely a product from the V Burst Graphic System lineup that will work for you and/or your company's marketing strategy.