Xpressions Snap
It's important to have advertising material to promote your business at special advertising events and at all other places that it could be possible to promote yourself. This is easy with displays like Xpressions Snap being available. It's easy to set up, its affordable and its easy to access and order.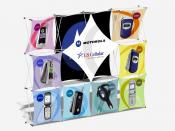 Xpressions snap is a 3 dimensional frame display that is lightweight, portable and very easy to set up and break down. If your biggest fear is that you might have trouble with the set up or break down of your display, then fear no more. This is the display for you!
The Xpressions SNAP allows you to easily change the graphics to create a new display. Most other trade show displays do not give you that option, forcing you to buy a completely new item if you want a new display. That could be extremely costly and most companies don't want to spend money on the same display twice. So if this is what's been happening at your company then you might want to look into this fresh option available to you now.

Thanks to the versatility of the Xpressions Snap display, it can be used for many different types of trade shows and display opportunities, including retail showrooms, sporting events and fundraisers. This product is also very durable – the graphics cannot be scratched or dented. That is enough to already put a lot of people at ease. The graphic panels are machine washable and the frame has a lifetime guarantee.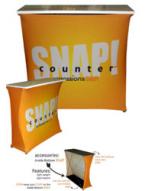 There are a number of accessories that you can buy separately for the Xpressions Snap. Some of the examples are: a light, light bag, canvas carrying case, the shipping case, shelves and feet. They also have an Xpressions snap counter available (below) that would add something extra to your booth.
You can browse the Xpressions Snap portion of our Web site and see what their products are all about and what they have available. With 12 different frames to choose from, you will definitely find one that will best suit your needs. If you have trouble making this decision, just give us a call and we'll be happy to help you pick the best one.