Trade Show Display Accessories
Glossify Synonyms
pop up monitor mounts
Category Image
Teaser
A Fast & Easy Kit - Let us supply your monitor too!
Mounting a 26" monitor on a pop up display used to be an impossibility due to the weight of the monitors and the flimsy nature of pop up displays until the Quadro pop up was introduced. With the steel channel bars and extruded square tube aluminum, the monitor mount connects securely to the frame for a professional look each and every time. Mount one or up to 4 monitors per frame.
Lower Content
Try one, or try 3 - 22" monitor mounts on the front of your pop up display from Classic Exhibits. You no longer have to take a back seat to the big booths as you can buy the kit in the trade show accessories section of ShopForExhibits.com and begin competing.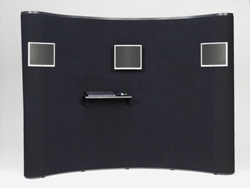 The process of serving our customers who are looking for trade show displays is an vital roll in our trade show displays business. All of us as service professionals, have to be willing to work harder to ask questions pro actively to understand what the client's goals are for the display they're purchasing and not become order takers and processors. Although it might never be stated, most of our customers want to hear our opinion and welcome our input and feedback. That is why we, as service professionals at ShopForExhibits, have the real world experience so we can advise our clients correctly and give them the direction they need to create a valuable exhibiting experience for themselves.
Related Products